25.3.04
|
Boheme Jazz Festival in Moscow, Russia
24.3.04
|
A Brief History of New Improvised Music in Russia
|
Groovin' High in Kaunas/Jazz Outsider Around
23.3.04
|
A Glance at Jazz-da-Lithuania: a bit of history
For me living in Estonia and coming from Latvia, Lithuanian jazz scene has always passed by. I guess, the same for many Estonians and Latvians. Here's a bit of the great tradition.
Lithuanian Jazz Masters
If we strictly consider Soviet Union and, therefore, exclude Poland with its Sztanko and Komeda contribution to the world jazz stage, Lithuania would probably be among the jazziest of former U.S.S.R. republics. Lithuanian jazz scene flourished around the end of 1960s, with the forming of Ganelin Trio. The now legendary band came together more by a chance than by a design: soon after coming to Lithuania from Northern Russia, Vladimir Tarasov (drums) joined Vyacheslav Ganelin (piano) in forming a duo. After a gig in Sverdlovsk, a small Siberian city, they met a local amateur saxophonist Vladimir Chekasin. He soon decided to move to Lithuania, and the trio was born.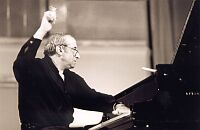 V.Ganelin
Ganelin Trio made the first international breakthrough of Lithuanian Jazz ever, after storming Warsaw Jazz Jamboree in 1967. Warsaw Jazz was then the most respected and acclaimed of all Eastern European and Russian jazz events. The successful concert resulted in regular invitations from all around the Western jazz world, culminating in 1986, when the trio made an extensive 17-city tour in the USA. Nevertheless, the band split up after Ganelin moved to Israel in 1987.
Since then, Tarasov has been in various percussionist projects in Lithuania and the rest of Europe. He is a member of Lithuanian Art Orchestra and Baltic Art Orchestra, as well as an author of several installations both in Europe and the U.S.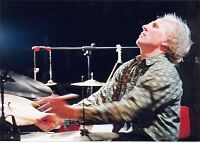 V.Tarasov
Meanwhile, Cherkasin formed Lithuanian Academy Big Band and established himself as jazz education authority, with many new leading Lithuanian jazz musicians being his students.
The New Generation
After Ganelin, the new Lithuanian jazz players, most notably – Vytas Labutis and Vysniauskas (both sax) – emerged. During the legendary times of Ganelin trio, Lithuanian jazz scene was more tended towards free jazz, an apparent influence from Poland whose Komeda is considered to be the founding man of the movement. (Free Jazz - a stylistic movement characterized by defying the structure of the main theme, style and rhythm of the composition). Now, Lithuanian Jazz moved towards a new stylistic approach by combining jazz and the local folk music elements. Vysniauskas even had a separate collaboration with the vocalist Veronika Povilioniene, often celebrated as the queen of Lithuanian folk singers. Such "folky" inclinations should be seen not only as a result of the first independency breezes, but also as a way Lithuania, a small Eastern European country, pursued its identity in the overwhelmingly Western style of music.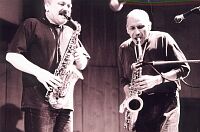 V.Labutis and V.Cherkasin
Saxophonist Vytas Labutis was the co-founder of many 80s Jazz groups, most notably Vilnius Quartet. Also, worked together with Neda Malunaviciute, a singer and flutist, the rising star among the new generation of performers. Vysniauskis and Labutis represented Lithuania at a festival in Perth, Australia with vocalist Povilione and Dalius Naujokaitis. They also played in Jazz Baltic Ensemble, a regular participant at Salzau festival in Germany. They have also played in Ford Montreux Jazz Festival in Detroit and in New York Anthology Film Archives' sponsored concerts.
The Events
The most notable of Lithuanian jazz events is Kaunas Jazz Festival. Many world-class performers have visited the place, including, John Scofield, Charles Lloyd, Elvin Jones and Jan Garbarek. See the information on this year's festival later. Vilnius Jazz, not so mainstream and a bit more capricious, is the oldest of country's regular jazz festivals. It is often stressing the avant-garde, new generation artists. Meanwhile, Klaipeda (a leisure city near the Baltic sea) has been a place for a more entertaining, pop-tended kind of jazz bringing together jazz lovers and tourists every summer.
Nowadays
The U.S.S.R. heritage left a handful of very talented and skilled jazz artists, giving a good skip for the new generation - trombonist Vytas Pilibavicius, bassist Eugenijus Kanevicius and trumpeter Valerijus Ramoska. As in the rest of Baltics, the economic pressure has oled to an extinction of long lasting collectives. While it gives freedom and a chance to deepen and enrich the jazz concepts and ideas, it also blocks forming of influential and long lasting jazz schools and approaches.
Source: Jahnke, Bernd. Central European Review, "The Baltic Buzz: Jazz in Lithuania – past and present.